When we refer to an SSP (Supply Side Platform), we are talking about an essential platform, a basic tool when we manage the advertising of a website through programmatic advertising, in other words, the step towards automation.
An SSP is the platform that brings together the management of a large number of digital media, which automate commercial work to allow the editors of these sites to achieve the greatest benefit by publishing native ads for example banners or video, from brands interested in their users.

A Supply Side Platform is integrated into an ecosystem where other technologies such as Demand Side Platforms (DSP) or Ad Exchanges are also integrated, also essential for the automated bidding process in which the bases of the programmatic purchase are established.
SSP and its automation technology
These platforms allow publishing companies to carry out a safe, effective, efficient and convenient management of their media to help the companies' marketing strategies achieve their goals.
Supply Side Platforms help both advertisers and publishers to locate the best prices and offers for their marketing strategies, achieve bidding in real time, segment and divide ad exposure across different sites.
This methodology has made it one of the emerging technologies that most captivates advertisers, since more and more publishers use this type of platform to provide those who want to advertise with their digital advertising space.
Its enormous success is due to the fact that advertisers have the ability to access, in an automated way, an inventory of publishers that show specialized spaces, with diverse target audiences, and a specific volume of visits and reputations.
The relationship established between the media and the advertiser is carried out in an automated manner thanks to the pooling of various platforms, including, of course, the SSP.
How does a Supply Side Platform work?
Supply Side Platforms are essential in the digital marketing sector. The development of this technology has allowed the growth of effective and simple platforms, which bring the service of offering digital advertising spaces to the advertiser in a simple, direct and automatic way.
Its operation is also relatively easy. An SSP is a technology platform that offers ad space and impressions and typically pools eligible spaces from hundreds of blog and digital media publishers. Its goal is to maximize revenue from digital media by getting the most out of its inventory.
The spaces are put up for sale in real time connected, while, with a series of data, such as the user profile of each space or the bulk of visits so that any advertiser interested in reaching the target offered, do it easily.
For the effectiveness of the SSP to be total, as we said before, it is necessary to use other platforms such as the DSP, in charge of grouping the native ads included in each campaign of an advertiser.
Or the Ad Exchanges, which link the data launched from the DSP and those that are located in an SSP whose job it will be to persistently and periodically search, examine and compile data so that each publisher finds the best campaign, at the best price market at the right time, for your space.
SSPs work with real-time bidding (RBD) and support automated buying. In this way, the user does not have to make the purchase manually, and the process of buying and selling advertising space is streamlined.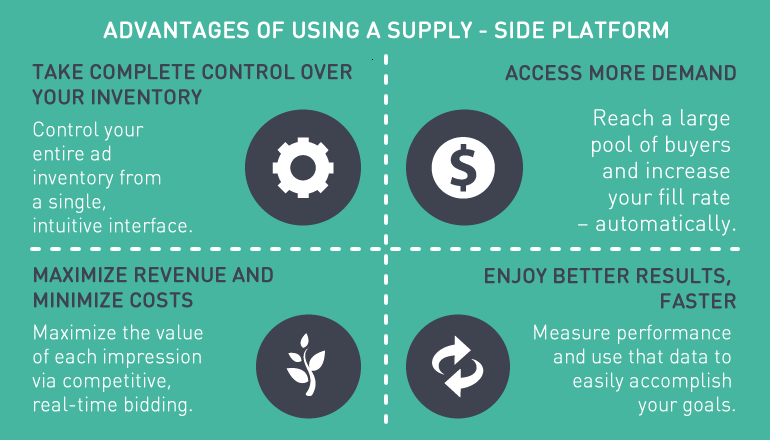 Advantages of using an SSP
RTB allows advertisers who want to publicize their products to find the ideal site to reach their target audience at the right time.
In this way, advertisers can get hold of spaces and digital impressions of advertisements whose returns on investment are much more beneficial. In addition to the total control of advertisers over said ads and the place where they will be published.
But Supply Side Platforms have even more advantages:
Possibility of increased supply and demand.
Greater options to find potential advertisers who want to hire the space you are enabling.
Reach a greater number of buyers.
Relationship with brands and companies, which a priori are not interested in contracting advertising space, but may be interested in establishing future business relationships.
Intermediaries are not necessary.
The continuous exchange of information between companies, with data that improves their operation.
They ensure that companies do not have empty spaces due to lack of demand.
Real-time bidding lets advertisers know how much money they're spending.
Total price transparency.
Services related to the supply and demand of advertisements: analytics of the campaigns or contracted advertising spaces, monitoring of the campaigns through basic metrics, etc.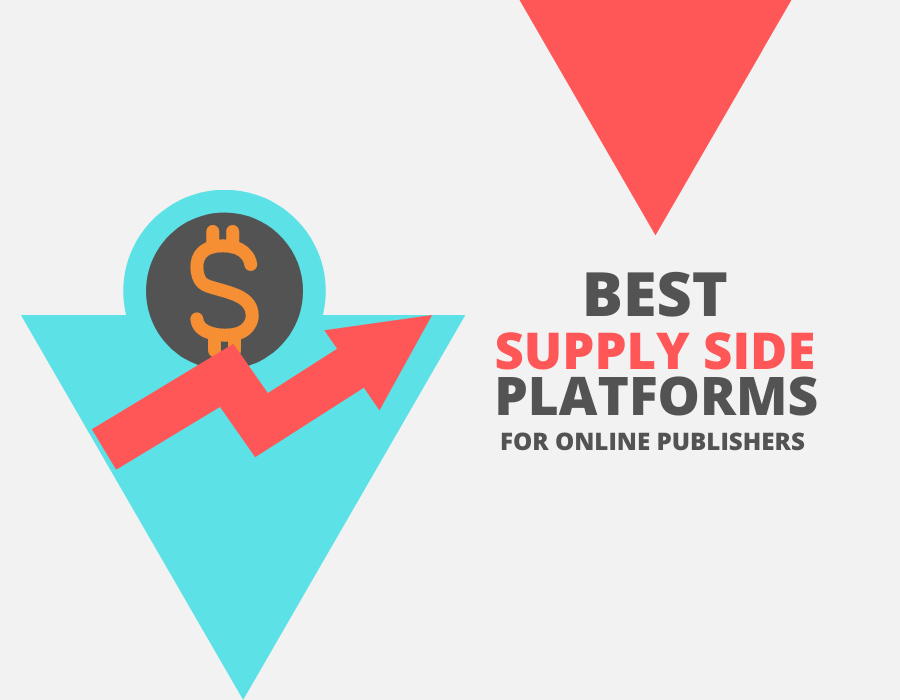 Best SSP platforms for 2022
Sharethrough
Powers modern programmatic display and video ads designed to fit in and stand out. Empower marketers and publishers to easily modernize their ad strategies to reach their audience. Contains perfectly designed native ads that adapts to reach any audience.
Google Ad Manager
It has a lot of advantages, first of all: Cost per click (CPC), so you will only pay for each click your native ads receives from your target audience. Second: segmentation. This platform allows advertising segmentation. So that your ads can be viewed more easily; by people who are interested in your products or services.
Besides, this platform has a series of formats or predesigned templates. Among those you can choose to develop your creativities. Google Ad Manager also gives you the option to create your own creative template. Finally, it's free, so you can use it without any problem.
Pubmatic
It provides technology, algorithms, and processes that enable world-class monetization across all types of devices, channels, and ad formats.
AppNexus
It enables customers to buy and sell media content more efficiently. This platform also offers real-time access to media that buyers can purchase through live bidding and deals. This improves a buyer's ability to meet their delivery, performance, and audience reach goals.
OpenX
Thanks to OpenX, you will be able to have all the necessary tools to manage all the native ads on your websites in an organized way, also carrying out a detailed monitoring of your ads and advertising campaigns through its advanced reports.
Magnite
Its service is characterized by offering an independent, transparent and efficient process to access premium inventory with programmatic technology and the guidance of an experienced team.