Anyone can make a landing page, it's easy. But if you've been browsing the Internet for a long time, you've probably already come across thousands of landing pages that failed to grab your attention for more than 10 seconds.
Surely you do not want your page to have so little seasoning and scare away users when they land on it. Your intention is to build a digital experience that keeps visitors engaged for more than 15 seconds. By the way, that's the average attention span a user spends on a page.
Here are some practical tips to retain the attention of your users and transform them into subscribers or leads.
Choose your landing page editor wisely
Creating high-level landing pages used to require companies to hire UX (user experience) professionals and graphic designers. Only those experts had the ability to make custom designs from scratch.
However, there are currently plenty of accessible solutions, where you can start building pages in no time. There is definitely no shortage of landing page publishers on the internet.
Although it may not seem like it, this situation creates a problem: defining which tool you are going to use can be a bottleneck for you — in the end, there are several brands competing for your attention.
You will see that it is not so complicated. We candidly make a statement: Any tool that has the following essential features is powerful enough to generate landing pages that convert:
A type of resource that is also called "what you see is what you get" or "WYSIWYG". That means you can design landing pages without touching a single line of code.
This mechanism allows you to show two different versions of your landing page to different groups of users (or the same ones). With such a method, you can evaluate the model that came out champion in performance based on the content and design.
Some metrics you'll want to track are number of views of a landing page; sessions per channel; bounce rate or bounce rate and conversions. You can also count on Google Analytics, which works well, to monitor those indicators.
A vast library of 100% customizable templates
Here's a handy feature, because landing page templates give you the opportunity to crank up your creativity — especially when they offer various customization options.
Your landing page creation should enable custom domain names (eg: "YourWebPage.com" instead of "YourCompany.LandingPageTool.com"), since users do not tend to trust a page with random URLs.
However, if you use a free landing page tool, "YourCompany.LandingPageTool.com" may be your only option. So you need integration. What you need is a landing page editor that pairs well with other tools you're going to use to drive your overall conversion process.
This ensures that the landing page will display correctly on screens of any size.
Define the user experience you want to offer
One of the most serious mistakes you can make when making a landing page is to ignore the principles of user experience (UX).
We start by remembering that usability is a ranking factor in search engines. Beyond that, a pleasant user experience will allow you to inspire more trust in your visitors, which will result in more conversions.
Due to the breadth of the subject, it is not enough for us to analyze UX design fully here. But here you will see 4 tips to create landing pages that please users while they browse your offers — and the best, that boost your conversions:
Be concise: your title should make it clear to the user what the main benefit of your offer is (product, service, etc.). That objectivity is important because you only have 15 seconds for them to notice your offer and want to accept it.
Give the visitor a detailed look at your offer: If you're selling a product, showcase its specific functionality with screenshots or photos.
Use Symbols of Trust: Featuring customer logos, testimonials, and press mentions are effective ways to boost credibility and stand out from the competition.
Arouse a sense of urgency: Adding a countdown timer can persuade visitors to stop putting off the purchase decision.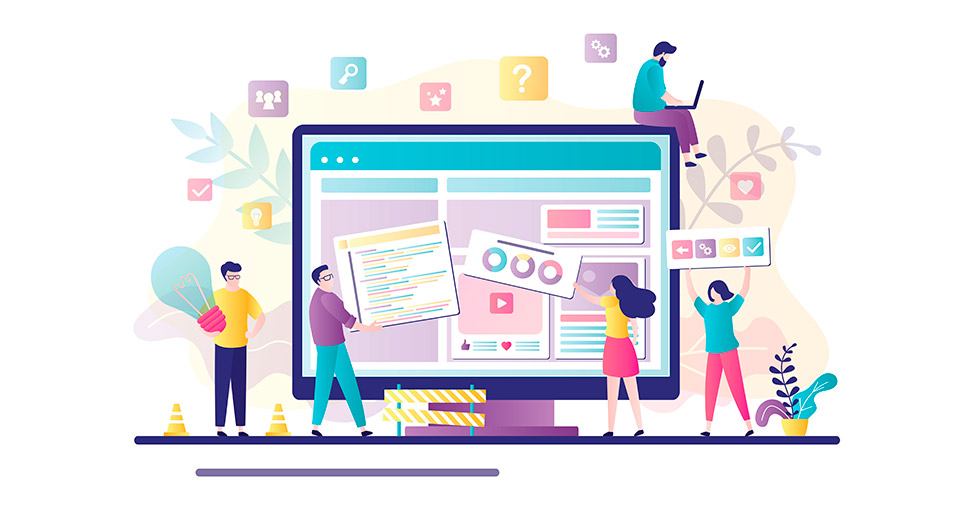 Adjust the speed of your web page
Earlier in this article, we mentioned something about how short attention spans of Internet users tend to be.
Imagine what can happen if your landing page takes a long time to load. People who navigate the digital world don't have time for slow landing pages, so they go elsewhere.
A research from Google back in 2017 revealed that a 9 second increase in load time makes it 123% more likely for the user to leave the page.
Check out some tips to improve the loading speed of your landing page:
use a content delivery network (CDN): this mechanism contributes to reducing the loading time because it sends the content from servers that are geographically closest to the users.
Optimize your images: before uploading images to your web page, adjust their size to the necessary dimensions and, if possible, compress them in formats such as PNG or JPEG.
Implement accelerated mobile pages (AMP): Developed by Google, AMP pages are crucial web structures to decrease loading time.
Make your website responsive
When you're about to make a landing page, make sure to optimize its design for both desktop and mobile users. After all, half of all web pages available globally are mobile.
How to create a responsive landing page, then?
It all depends on the landing page creation tool you work with. You have to ensure that it allows you to design pages that fit the size of your user's screen.
A responsive page looks something like this, on different screens: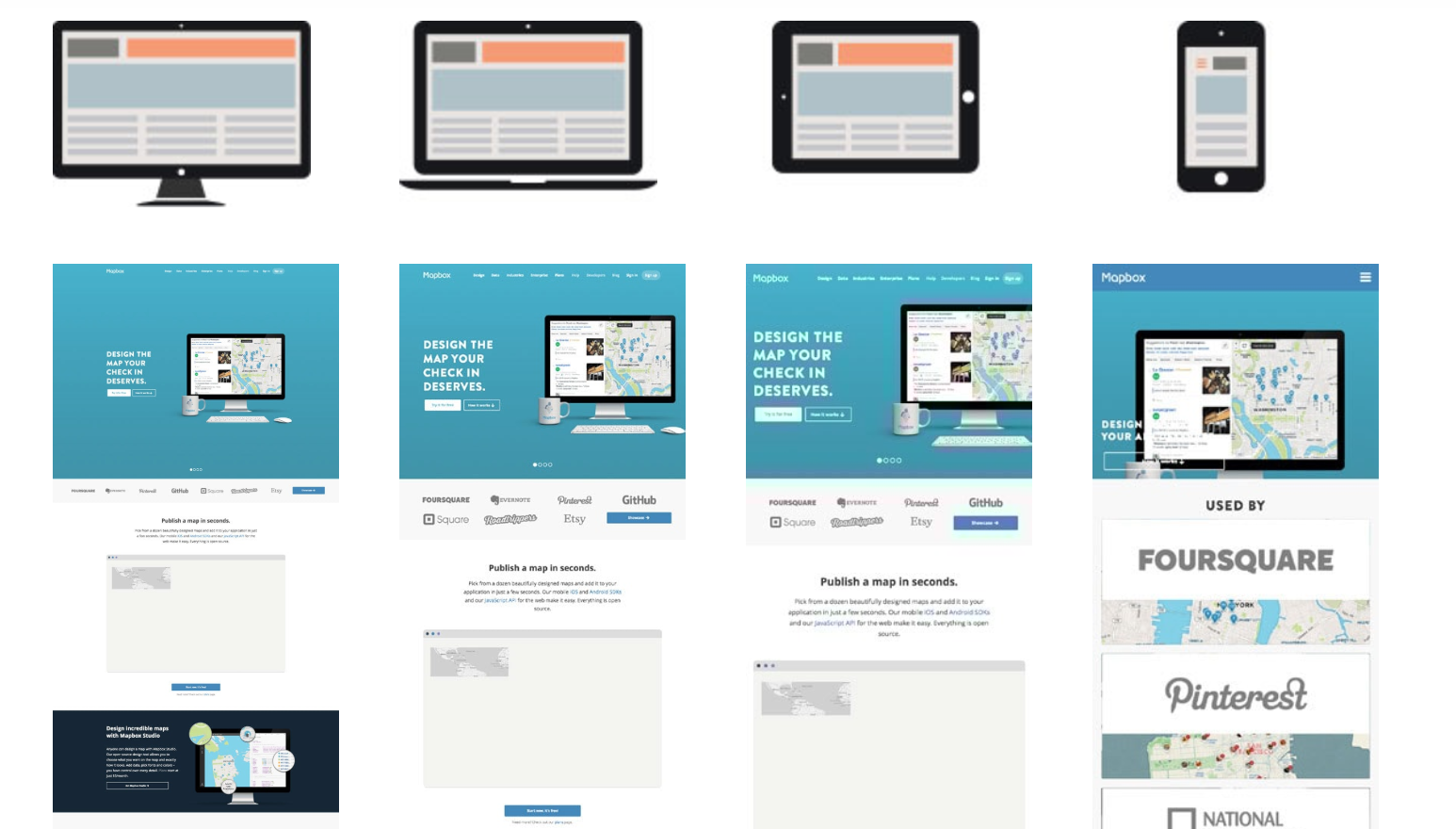 Research your market and audience before writing the copy
So far, a large part of this article has been dedicated to the aesthetics of landing pages, which is very important, of course.
But there is something even more crucial: the copy, the written content of your page. You must carry out a deep investigation of your public to create messages with which the user can identify.
And the best way to do an analysis of the target audience is to communicate with them. Send questions to your visitors. Find your pain points. In short, interview your contacts with a survey, for example.
We share with you some ideas that you can follow to improve the efficiency of your interviews with the public:
Limit the interview to 30 minutes: Setting a maximum time for the meeting helps respondents know that you will not take many minutes. It's also a way to focus on the most valuable insights you can generate from the conversation.
Use resources wisely: interview at least 5 people from your audience, but no more than 12. Why? The answer is easy: after 5 interviews, you will discover recurring trends and topics.
Converse naturally: Client interviews don't have to be like interrogations, so let the client tell you their own story.
But if doing interviews with the public is not in your plan, here are some other tips for creating surveys that users want to answer:
give priority to closed questions: those are multiple-choice questions, in general, that make it easier for respondents to answer.
Take care of the tone of your communication in the questions: avoid biased questions and words that influence the answers.
Ask only one question at a time: Limiting questions to one point or aspect eliminates double interpretation and ensures that the insights you gain are actionable and relevant.
Conclusion
Thanks to technological evolution, it has never been easier to create landing pages that convert than now.
With the right tool, you can build a landing page that looks great and converts well enough to make your projects, businesses, and campaigns successful.
Plus, you don't have to spend several months designing "the perfect landing page" in the hope that it will perform well. Alternatively, you can publish different versions of the page and do A/B tests to find out the winner.