Reaching the audience at the right time is one of the basic principles of an effective digital marketing strategy. To achieve this, push notifications or pop-up notifications are a channel that very well can complement other actions such as email marketing.
As its name suggests, push notifications "emerge" directly on the user's mobile phone or computer to quickly remember the most important promotions or news of a brand or provide content that adds value.
Consider that like promotional emails, push notifications are subject to the user's permission to receive them (opt-in). In addition, the risk of them being perceived as intrusive is even greater than with email, so it is important to learn how to use them properly.
In this article, we are going to see the main characteristics of push notifications and the best practices to carry out a marketing strategy with them.
What are push notifications?
A push notification or pop-up notification is a short message that appears directly on the main screen of the user's mobile or computer.
The characteristics of push notifications depend on the type of device the user uses.
A web push notification is configured directly in the user's web browser. They are linked to a website and you do not need to develop a specific application to send them.
The display of these notifications depends on each device. They generally appear in the lower right corner of the screen.
One variant is pop-ups, which differ from web push notifications in that the user must visit your website for them to appear.
Mobile push notifications are the most frequent. They are linked to mobile applications and are configured on operating systems such as Android and iOS. The affiliate receives the message on the main screen of their mobile phone or tablet, usually before unlocking the device.
In an age like the present, in which mobile traffic accounts for more than half of global web traffic, the marketing potential of mobile push notifications is remarkable. This is illustrated, for example, by this Invespcro study:
Push notifications increase user interaction with the mobile app by 88%.
48% of mobile eCommerce purchases were made after the customer received a notification from the mobile app.
Types of push notifications
Depending on their call to action, push notifications can be promotional, informational, or transactional.
Promotional push notifications are those whose call to action is directly aimed at converting the prospect into a customer. It can be with a discount, a promotion or simply highlighting a product that may be of interest to the prospect.

Transactional push notifications serve a similar purpose to transactional emails, although obviously much more briefly. In electronic commerce, they can be useful to notify the most important stages of the transaction.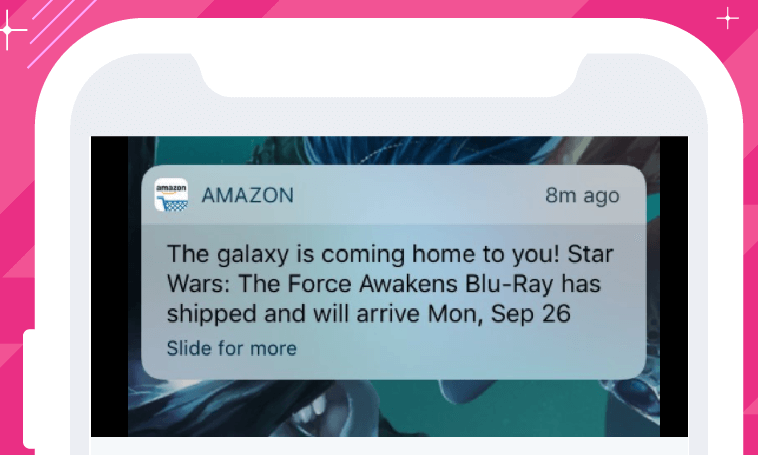 Informative push notifications are those that invite you to read an article or consult content that adds value to the user. They are often used in digital press, but other types of companies can also take advantage of them. Remember that a good lead nurturing strategy combines informative content with promotional content.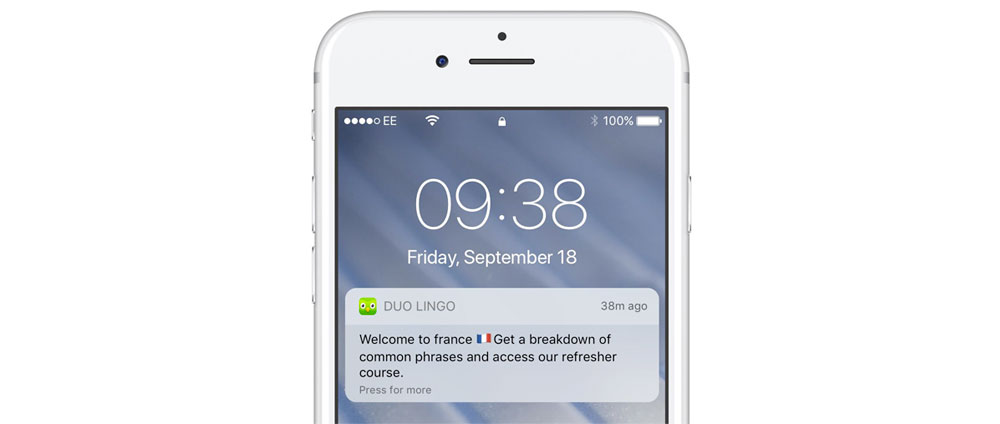 Origin of push notifications
The original push notifications arose for mobile applications. They were initially conceived by BlackBerry in 2003 and Apple finished popularizing them in 2009.
Nowadays, all smartphone users receive these short messages on their screens, on iOS, Android and other systems; and are often used in mobile marketing campaigns.
Starting in 2012, the Google Cloud Messaging service marked the birth of push notifications for web browsers. Currently, they are available in web browsers such as Google Chrome, Firefox, Opera, Yandex and Safari and are integrated into a large part of digital marketing strategies.
Principle of consent or opt-in of push notifications
Effective digital marketing is based on consent and push notifications are no exception: they are only sent to those who agree to receive them.
This consent can be revoked at any time in the settings of the web browser or mobile phone. In addition to being a legal requirement, this is a good practice for digital marketing actions. Sending notifications, newsletters, SMS or any other message to people who perceive them as intrusive is not very useful for your brand.
Limited length and concise messages of push notifications
Push notifications are short messages and the technical requirements of the different platforms are the first and foremost limitation to their extension. In general, they consist of a title limited to about 40-60 characters and a message of about 120 characters in Windows and much shorter in Mac OS.
The following PushOwl table lists the push notification character limits for Chrome, Firefox, and Safari web browsers on various operating systems.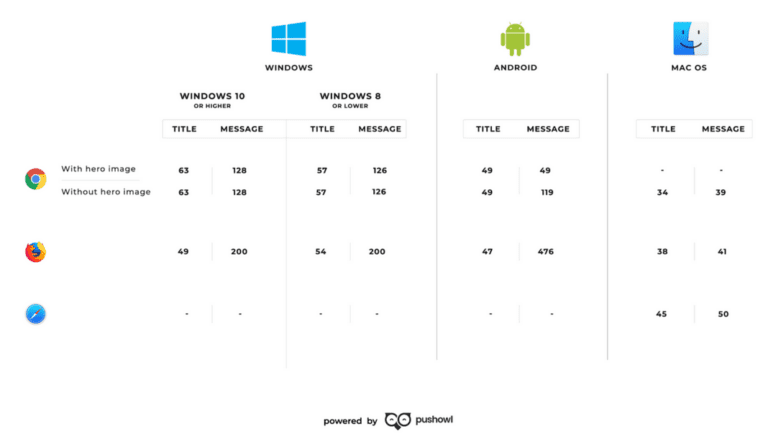 Direct messages with more interaction with push notifications
Compared to email marketing, push notifications are even more direct. In general, users are more selective when it comes to accepting them, but if they do, it will be because they have a relatively high degree of interest in receiving news from your company.
In addition, in the case of mobile push notifications, their receipt is often linked to the download of the application, which demonstrates an interest in the brand.
According to data compiled by Xtify, an IBM company, average open rates for push notifications range from 30% to 60%, while those for email marketing hover around 20%.
Best practices for sending push notifications
Push notifications are a good resource for communicating promotional or transactional messages in real time to recipients, as long as they are used well. These are the most important good practices for developing push notification campaigns:
Use concise messages with a clear call to action
Push notification messages should not only be short due to technical requirements, as we mentioned in the previous section. You should also keep in mind that the recipients will spend a few seconds processing them. If it's not immediately clear to them what value you're offering them with the pop-up notification, they'll most likely ignore it.
There are also figures that corroborate this. According to this study by Upland, pop-up notifications with 10 or fewer words generate the highest click-through rates among users, while messages with more than 20 words have significantly less reception.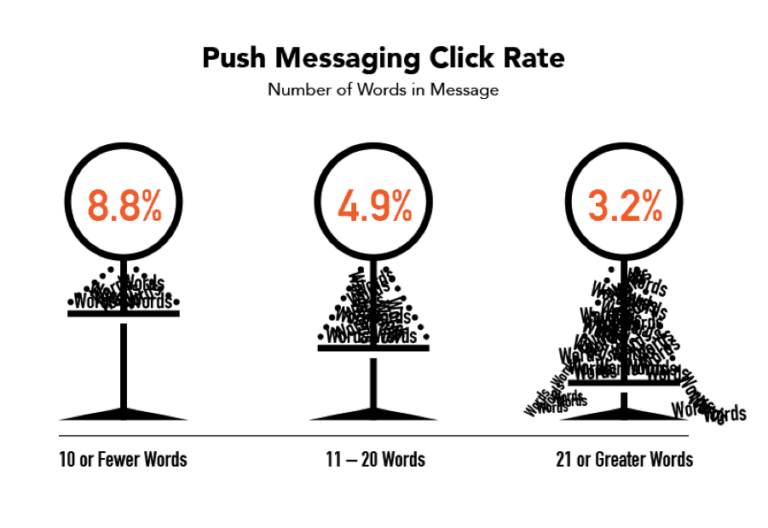 The concise message of a push notification should include a concrete call to action that makes it clear to the recipient what benefit they will get if they click on it. It could be taking advantage of a discount, reading an article with useful information, or playing a game you enjoy again, for example.
Attention to the frequency of sending push notifications
Prospects who accept your push notifications are giving you their trust: the right to interrupt them at any time to leave them a message. It behooves you to use that trust well. Too many notifications may cause the user to unsubscribe or uninstall the mobile app.
Helplama has investigated what is the ideal sending frequency. Their statistic focuses on mobile push notifications and concludes that 13% of users would uninstall an app if they received a single weekly push notification, while 43% would do so if they received between 2 and 5 weekly notifications and the remaining 44% would tolerate a higher delivery frequency.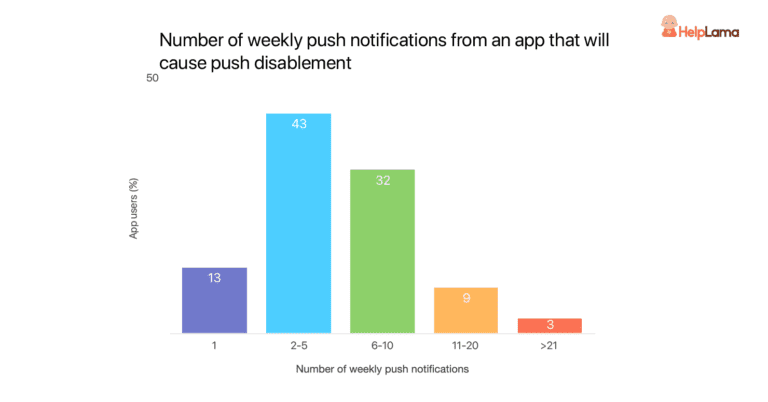 Helplama's study is limited to the United States, where smartphone users receive an average of 46 push notifications per day (from many different applications and with very different purposes, of course).
In general, we can consider that more than one promotional push notification per week can be too much. For transactional notifications, this limit is more flexible.
Segmented and personalized push notifications
Many platforms allow you to segment push notifications in a similar way to email marketing campaigns, so that each user receives the notifications that interest them at the most appropriate time.
It is also possible to customize the message. For example, you can include the name of the recipient. This Leanplum research has found that pop-up notifications with personalized content are opened four times more often than push notifications with non-personalized content.
The delivery time can also be customized based on the profile of each recipient. According to the same Leanplum study, when push notifications are sent based on user behavior, the open rate is multiplied by eight.
Include images and buttons
Push notifications are brief, but that doesn't mean they don't integrate visual language. On most platforms to set up push notifications, it is possible to include an image that accompanies the message. This possibility should not be overlooked, at least in the most important notifications.
Depending on your campaign, you can use your logo or a product image to illustrate your notifications.
You can also integrate call-to-action (CTA) buttons, which must stand out visually (with a color that stands out against the background) and contain text that makes the action offered by the notification clear.
A fairly effective push notification format is one that offers two different call-to-action buttons for the user to choose from.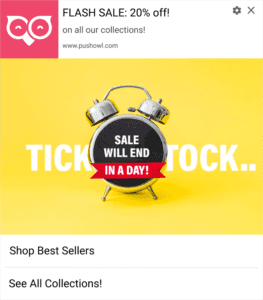 Appeal to urgency
When you send an email to your prospects, it may take several days before they open it. Instead, push notifications appear directly on the screen, so the user will see them sooner. Therefore, a pop-up notification is perfect to remember a discount, a promotion or the registration to an event in the last hours before the deadline. Something similar happens with SMS marketing.
Because poorly planned push notifications can drive people away as quickly as they came, it's important to consider your users' lifestyle and habits. Some studies show that the effectiveness of communications of this type has increased during the coronavirus pandemic, so it would be inconvenient to miss out on its potential by not doing an exhaustive analysis of the best time to send a message.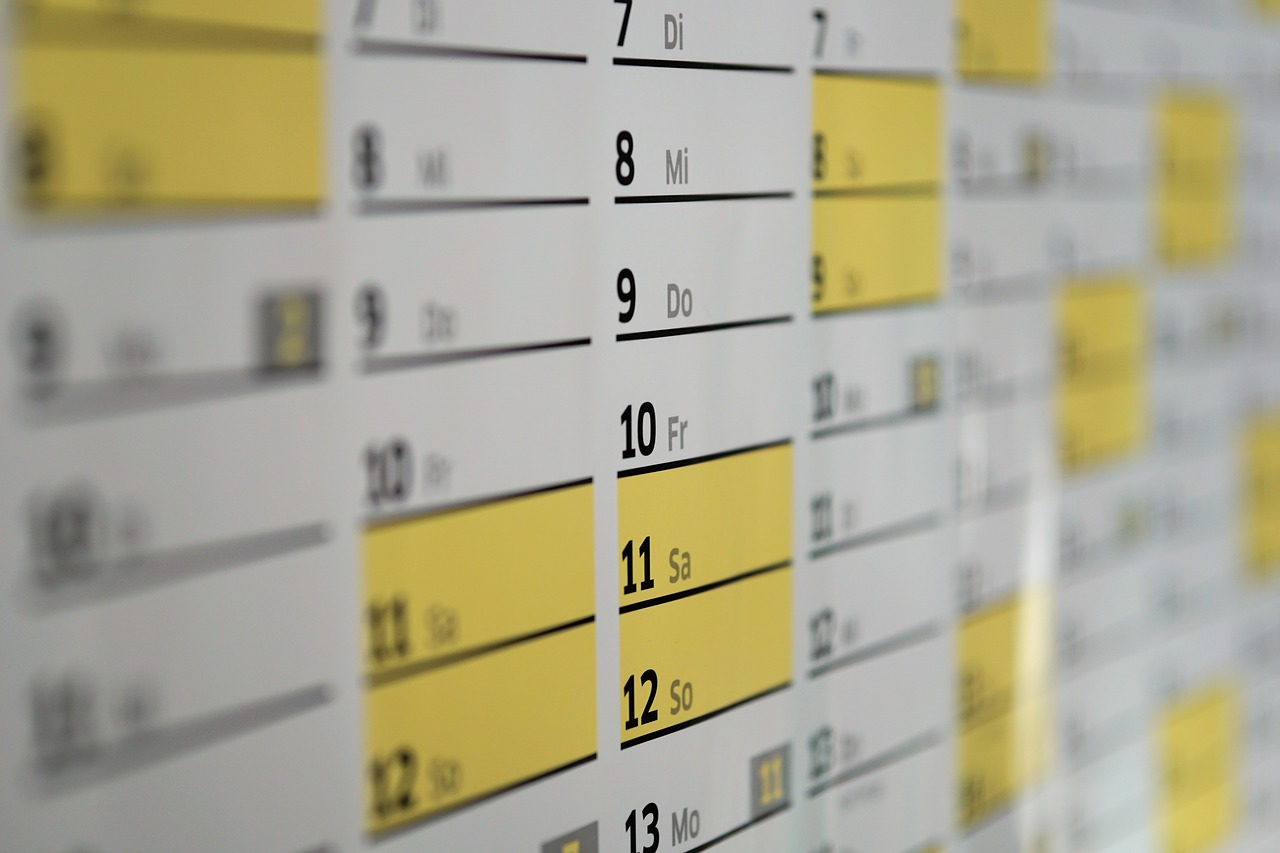 Phrases like "Available until tomorrow", "Last places" or "Last 2 copies" can be effective in creating a sense of urgency. We insist: without abusing, only when it is really important.
Conclusions about push notifications
Push notifications are a good example of a double-edged sword in digital marketing. On the one hand, they can be a good resource for promoting prospect and customer retention. Upon receiving a pop-up notification, they remember their interactions with your brand and may have incentives to repeat them: visit your website again, buy a product again…
Affiliates who accepts push notifications from your brand are giving you direct access to the unlock screen of their smartphone or to the main screen of their computer. Give them back that trust: the best way to do it will be with selective marketing that add value.